EcoLuxe Travels: Romance & Adventure Travel Agency

Specializes in adventure & romance vacations for environmentally conscious travelers. From 5 Star luxury all inclusive resorts, easy on the budget or boutique hotel packages, to jungle tree house lodges or rustic fantasy huts on the beach, from the finest yachting cruises to exotic ports of call, to the intimate small ships that sail into harbors where the big cruise ships don't dare venture, we specialize in the finding the most sustainable, eco-friendly options to the destination of your DREAMS.
This is our mission and our passion. We are good at it.


We Make Dreams Come True

EcoLuxe Travels is a Certified Romance Travel Agency with the training, experience and industry contacts all over the world to build your DREAM come true Destination Wedding, Honeymoon or the latest concept in Couples Romance Travel, the Weddingmoon!
When it's time to begin planning your destination wedding group travel, you want to have your own dedicated agent to arrange your transportation, accommodations, activities, excursions, wedding ceremony, reception and your Honeymoon. There are so many options and details, you need a bonafide expert to guide you through the process to achieve the results you deserve and expect.
We work directly with local wedding planners to bring in all the elements you desire to make this very
special occasion into a beautiful event that creates perfect lifelong memories for you and your guests.

EcoLuxe is great at creating customized tours for individuals, couple or groups for international or domestic itineraries. We've got extensive experience with travel to the Caribbean, Mexico, Europe, Canada, Central & South America and all over the Good Old USA.

We LOVE to get to know our clients, your passions, your motivations, and your taste, so we can help you choose the perfect getaway. Our clients choose us because they enjoy benefiting from the knowledge of seasoned travel industry experts and appreciate our caring, personal concierge level of customer service, before, during and after your trip. Free consultation, dedicated research & detailed oversight of the reservation process, protects your interests while offering the most bang for your buck. We make vacation planning easy and fun.

All you have to do is dream it up! We will make it happen!!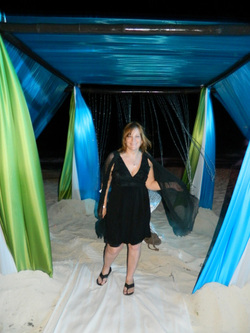 EcoLuxe Travels is an independent agency owned by Brenda Owens, working with Tours & Cruises, Unlimited in Jacksonville, Florida. With over 30 years in the travel industry, we offer the highest quality of service and access to the best deals, anywhere you want to go. Because of our strong relationships with the major travel suppliers in the world, we are competitive with anything on the market. Just as important...we have the resources & and desire! to back you up while you are on your trip if anything goes awry. We always go above & beyond to create the best travel experience for you, because we want you to be our customer for life. EcoLuxe LOVES referrals!
"We are all travelers in the wilderness of this world, and the best we can find in our travels is an honest friend.
"
Robert Louis Stevenson
---